Colin Archer Plans
Original Colin Archer Plans:

There are plans of rescue boats, pilot cutters, fishing boats and yachts. 
Some of the yachts do not look like what one would think of as a Colin Archer as they have counter sterns and are narrow like the English cutters of the last century. 

The plans consist of, usually a linesplan, a sailplan and an interior layout.

CA's early linesplans are really messy, but the later linesplans are nicely drawn but sometimes traced.
(Be aware that the diagonals are not lead to the centre-line crossing waterlines). There is no offset table, or any construction plan or scantlings. 
The stern needs an extensive redesign to successfully fit a propeller and to retain the good maneuverability inherent in the original design.


Be also aware that many of CA designs, as the one shown here, have too little displacement for today's fitting-out with an engine and tanks for offshore cruising.
 Many designs are sharp in the ends and can thus be very "pitchy" if loaded in either end with anchor chains, tanks, batteries and whatever we can put in a boat these days.




Originally there were no detailed construction plans. The boats were designed by the shipyard and details did not have to be put down on paper. 
Today, however, it is very important to have all the details on scantlings and construction since the boat is probably going to be built by a yard not familiar with this design.

The original interior layouts are not functional for today's use. Times have changed!

The CA sailplan can sometimes be used, like the pilot boat plan show to the right. However, today we usually use lager jibs and a taller mast so the topsail yard can be shorter.

The rescue boat ketch rig has little sail as it is designed to gale force winds. This rig has to enlarged for yacht use.

The yachts have large sail areas often with a longer mainsail boom than we like these days.

as we do more offshore cruising than we did before. Today these boats are not designed to be modern racing boats and can carry an engine for use in calm conditions. A long boom often creates a weather helm which worsens when the rudder is cut out to accommodate the propeller. The shorter yacht booms and reduced sail area is usually compensated by a taller rig and a larger jib.

There are seldom scantlings on the spars. Diameters must not be taken from the sailplan!





Too many Colin Archer replicas or copies, despite the heavy scantlings, suffer from inadequate strength.



The sailplan can sometimes be used. However, the rescue boats have little sail area and have to enlarge the rig for yacht use.
The yachts have large sail areas but often a longer mainsail booms than we like today when we do more offshore cruising than before.
Today these boats are not modern racing boats and we also have engine for use in calm conditions.
The long boom often creates a weather helm which becomes even worse when the rudder is cut out for the propeller.
The shorter yacht booms and reduces sail area is usually compensated for with a taller rig and larger jib.
There are seldom scantlings on the spars. Diameters must not be taken from the sailplan!

If you want advice on Colin Arhers plans, you can call me or mail me.
This will be on commercial basis, 1 € (euro) pr minute, phone or mail.

The original plans can be obtained from the Maritime Museum in Oslo:
Norsk Sjøfartsmuseum, Bygdønesveien 37, 0286 Oslo - Norway
Tlph + 47 2411 4150 - Fax + 47 2411 4151
http://www.marmuseum.no/



My Colin Archer Designs
I have designed a few Colin Archers that have been very successfully.
4 were built at Risør Trebåtbyggeri from 1979 - 1995,
32', 38', 42' & 49',
A 35' was built on the boatbuilder school on the west coast in 1996,
45' built in Russia 2005
49' built in Oslo, launched 2011.
See list of my designs and rigging plans here
I strongly recommend that you choose a redesign if you want a Colin Archer.
Too many boats have not been very successful.
Conversion from a primitive fitted out boat to a boat to meet today standards with engine
without loosing the original performance, is not so easy.

Linesplans
I do now (from 2005) make linesplans with a computer program.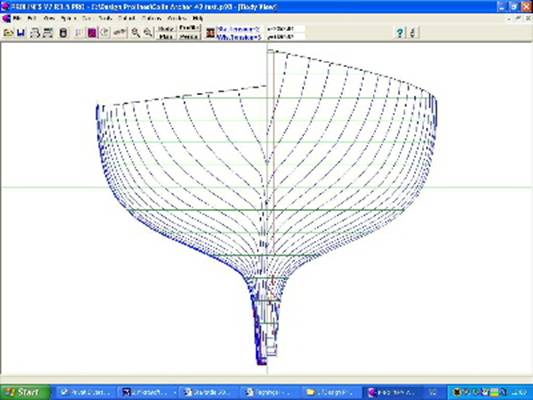 Stock plans.
I do not have ready stock plans, but I have some plans that needs some completion or modifications.
These I will complete for a reduced price of 50.000 NOK (Norwegian crowns).
Those designs marked * needs completely new plans, but hopefully plans can be sold more than once for this price.
Designs:
*32'x3,4 m. Cutter built 1980. "Tora"

*35'x 3,4 m. Cutter built 1996. "Tordenskjold"

*38'x 3,6 m. Cutter built 1986. "Bautur"

*42'x 3,9 m. Cutter built 1984."Frøya"

45'x 3,9 m. Ketch built 2009."Evgenia"

47'x 4,7 m. Ketch built 2005. "Husøy" ex "Camilla". Steering cockpit aft of mizzen with crew/family cockpit forward of aft cabin. Galley to port and sitting group to stb.

49'x 4,6 m. Cutter "Fri" built 2011.

49'x 4,4 m. Ketch "Mendrugo" built 1995.
Plans consists of the following:
Table of offsets for full size frames, stem and stern.
- Linesplan is made on computer and only printed in small scale on A4 sheet.

Ballast keel drawing with table of offsets. Scale 1:15/20 on paper.

General Arrangement plan of interior layout. Drawing in profile and plan view.
- This also shows the deck beams, frame construction and engine.
- Scale 1:15 or 20 on large size paper.

Sections of interior arrangement, 5-10 drawings depending on boat size.
- Scale 1:15 or 20 on paper.

Detail plans: Coachroof coaming. Rail. Cockpit drainage.

Rig and sail plan. Scale 1:30/40 on paper.

Sails: Measurement drawing for sail-maker. A4.

Spar dimensions. A4.

Rig fitting drawings. A4.
Ballast Keel.
Ballast keel is an issue. These designs have originally different keel solutions.
Some have a lead keel. Lead is now quite expensive so alternatives may be considered.

Traditionally the boats had cast iron ballast-keels. This is not everywhere available, or can be expensive.

Some have steel box filled with a steel/concrete mix. This is a cheaper keel and gives good strength as it goes under the whole length of the wood keel.
Hull lines will be redrawn where necessary so steel box keel can be chosen.
Rudder and stern-post.
All designs have a stern modified for propeller with an efficient and balanced rudder.
This makes the boats very easy on the helm, very manoeuvrable
and can be sailed without jib when short handed.

Updated 18/1-2012
Jeppe Jul Nielsen
Colin Archer Designer & Wooden Boat Surveyor
www.jul-nielsen.no
Adress: Tyriveien 1 - 4950 Risør, Norway
Tlph +47 3715 3144 - Mob +47 9077 8929
Email: colin.archer(a)consultant.online.no